All Fans.
The fan apparel site for all.
The fan apparel site for all.
The Challenge:
~ Create a site that is easy to navigate
~ Present large amounts of data in an intuitive and concise way
~ Organize and present apparel without the limitation of gender
~ Represent all users through the use of models of varying shapes, sizes, and genders
The Solution:
~ Simple search bar
~ Personalization of favorite teams, sports, and apparel
~ All apparel is displayed after a search regardless of apparel's "gender"
~ Models of all shapes, sizes, and genders will model available apparel
My Role
~ UX Dsigner
~ User Researcher
~ User Interaction Designers
~ Visual Designer
User Research
Key Findings and Frustrations
~ Users find the organization of fan apparel sites confusing and the amount of information            displayed overwhelming
~ Users often know what they are looking for when visiting a fan apparel site
~ Users feel discouraged or alienated by the lack of diversity in the models used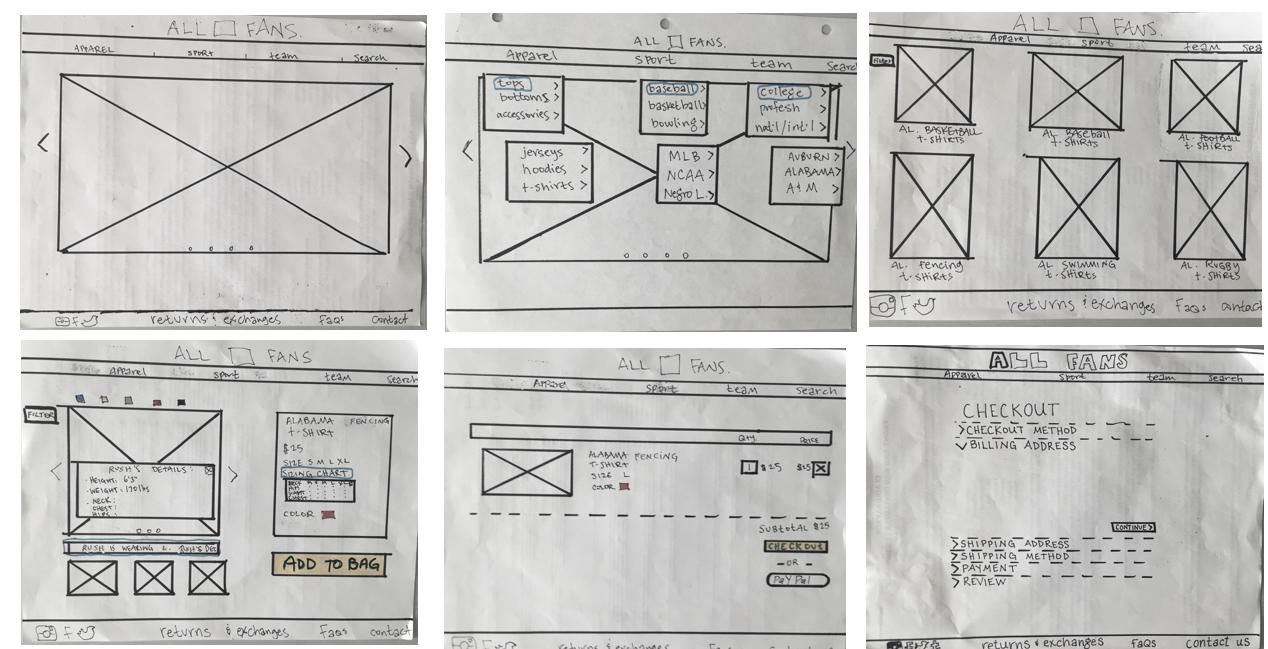 User Testing
"I wish there was a way bypass all of these submenus"
"there's too many screens to  navigate through" … "this is confusing"
"Is there any way to save the teams I like and JUST see that content?"
Wireframes
Second Iteration

~ Users can opt for email updates when new apparel is available for their favorite
Teams and/or Sports
~ Animations ie: hovers, screen changes, and Sign In vs. Sign Up modals
~ Creating lists within My Apparel; i.e. Birthday/Holiday Wishlist; sending Lists and inviting others to view Lists